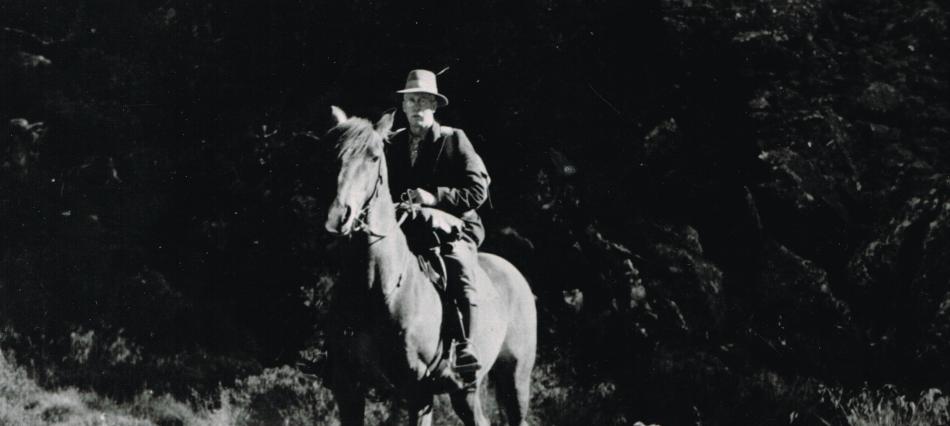 CENSUS TAKING BACK THEN!
As we've all just been doing our part to be counted for the census we thought this month we'd have a look at the census taking of the past. Pictured here is Tom Bryant of Kinloch off to do the census for the Greenstone Riding.
In his day he had to ride to Martin's Bay as it was part of the Greenstone Riding. Glenorchy fell into the Shotover Riding so the district was divided with Glenorchy and the Bucklerburn in one riding and areas to the west of the Rees River in the other. On horseback it was quite different times for the census taker than logging on to the internet to put in our details!
The census began in New Zealand in 1871 and we thought you'd enjoy seeing some of the results for our region during its first 20 years. What's interesting is not only how many people there were or weren't, but the locations that were census taking locales. It gives quite a picture of how different areas have been populated and de-populated over time. It's also quite something to see the split between males and females. Only once, at Earnslaw in 1891, did the ladies outnumber the gents!
If you're enjoying our photos of the month, mark the 31st of March on your calendar for an evening of heritage photos and stories from the past in the Hall. More info coming soon, but in the meantime, enjoy the thought of the good ol' days when Tom Bryant could ride out for a week to Martin's Bay to do the census.
Any guesses as to what our Head of the Lake population is now?
Census results:
1871 – No specifics for the Head of the Lake, only Queenstown
| | | | |
| --- | --- | --- | --- |
| Place | Total | Males | Females |
| Queenstown | 562 | 336 | 226 |
1874
| | | | |
| --- | --- | --- | --- |
| Place | Total | Males | Females |
| Glenorchy | 62 | 50 | 12 |
| Pigeon Island | 4 | 3 | 1 |
| 25 Mile | 26 | 14 | 12 |
| Greenstone | 8 | 8 | 0 |
| Kinloch | 37 | 27 | 10 |
| Routeburn | 3 | 3 | 0 |
| Lake Harris | 3 | 3 | 0 |
| Martin's Bay | 23 | 15 | 8 |
1878
| | | | |
| --- | --- | --- | --- |
| Place | Total | Males | Females |
| Glenorchy | 34 | 22 | 12 |
| McConnochie Creek | 10 | 5 | 5 |
| Lake Diamond | 19 | 11 | 8 |
1881
| | | | |
| --- | --- | --- | --- |
| Place | Total | Males | Females |
| Glenorchy | 37 | 29 | 8 |
| 25 Mile | 11 | 9 | 2 |
| Stoney Creek | 38 | 34 | 4 |
| Kinloch | 37 | 27 | 10 |
| Paradise Flat | 4 | 4 | 0 |
| Greenstone Bush | 23 | 13 | 10 |
| Dart River | 16 | 14 | 2 |
| Earnslaw | 6 | 3 | 3 |
1886
| | | | |
| --- | --- | --- | --- |
| Place | Total | Males | Females |
| Glenorchy | 58 | 34 | 15 |
| Bucklerburn | 16 | 16 | 0 |
| Stoney Creek | 33 | 32 | 1 |
| Rees Gorge | 48 | 44 | 4 |
| Camp Hill | 15 | 10 | 5 |
| Lake Diamond | 3 | 3 | 0 |
| Greenstone | 5 | 5 | 0 |
| Kinloch | 20 | 12 | 8 |
| Mt Alfred | 17 | 11 | 6 |
| Mt Earnslaw | 2 | 2 | 0 |
| Paradise Flat | 13 | 10 | 3 |
| Routeburn | 8 | 6 | 2 |
1891
| | | | |
| --- | --- | --- | --- |
| Place | Total | Males | Females |
| Bucklerburn | 8 | 8 | 0 |
| Diamond Lake | 13 | 8 | 5 |
| Earnslaw | 14 | 4 | 10 |
| Elfin Bay | 15 | 15 | 0 |
| Glenorchy | 40 | 24 | 16 |
| Kinloch | 37 | 23 | 14 |
| Rees | 10 | 6 | 4 |
| Rees Gorge | 59 | 28 | 31 |
| Rees Valley | 11 | 5 | 6 |
| Dart River | 13 | 13 | 0 |