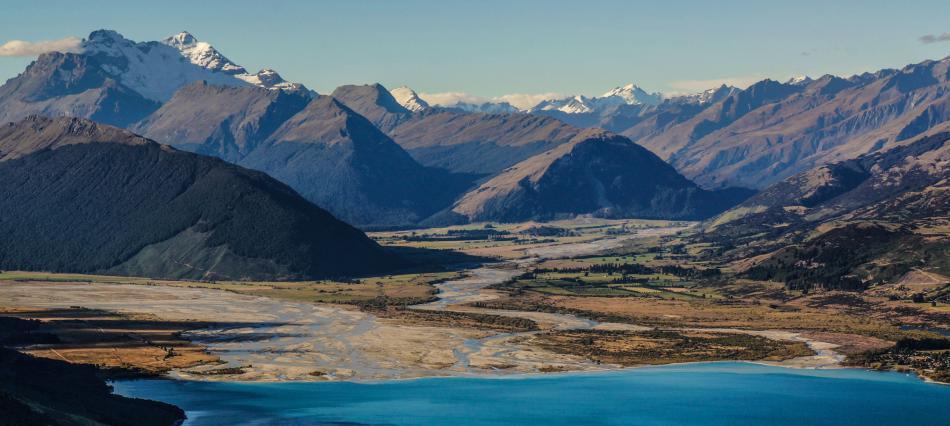 About the area
Imagine a place where merely being there nourishes your soul! 
A place where you can stand - turn slowly 360 degrees - and absorb the stunning mountains backdrop  harmonising with a foreground balancing both arable and natural habitats. A tranquil blending of mountains, water and forests.
The snow clad peaks of the Barrier Mountain Range to the north are dominated by a towering massif - Mount  Earnslaw / Pikirakatahi (2830m) standing centre stage - while forested beech slopes, braided rivers and crystal clear mountain streams flowing from numerous valleys into Lake Wakatipu portray a 100% pure vista that is revealed first to travellers as they round Bennetts Bluff on the Glenorchy Queenstown road thus causing them to catch their breath at their first sight of the Head of the Lake.
Since the earliest times, this area has captured the imaginations and hearts of both settlers and travellers alike.
Today, the magic of Glenorchy continues to lure - always the natural beauty here accentuates the need for people to linger, contemplate, or to be inspired by both its subtleness and boldness.
Whether you wish simply to be passive and reflect on life, or to be challenged, you will not leave disappointed.
The Front country offers much for those on a short time constraint - but don't worry - you will return. Once is never enough:
- for the passive visitor, a luncheon and coffee, beer or wine in one of the restaurants or cafes whilst viewing the mountains from afar may suffice
- for those with the time and energy, more opportunities await you;       
Horse trekking
Jet boating
Fun yakking
Skydiving
Lake kayaking
Canyoning
Short walks
History
Nature studies
Fishing
Photography
Art
Skiing / heli-skiing
Mountain biking
Rest and relaxation (Accommodation)
- for the serious wilderness seeker, and adventurous at heart, the mountain country lying to three points of the compass - East, North and West - awaits with challenges and rewards for your time and energies:
Day walks
Multi day tramping
Mountain climbing
Rock climbing
Hunting
Wilderness Angling
Multi day horse trekking
Multi day cycle tours
So, whether you have planned to stay for an hour of for 10 days, the time is never enough. Some come and stay a lifetime and never tire of the area.
The moods of the changing seasons, clear star lit night skies dwarfed by the Milky Way, morning and evening pastel hues, and a multitude of activities and opportunities settled at day's end with good food, cold beer or fine wine and a selection of accommodation to meet the needs of the most discerning of visitors will show you why so many believe that Glenorchy is not only the best place in New Zealand: many visitors say that it is the best in the world - but hey - we already knew that!!
Come and Experience The Best - Welcome to Glenorchy.