CAMP GLENORCHY ECO RETREAT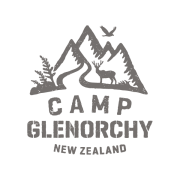 Set amidst stunning Glenorchy landscapes, Camp Glenorchy has been designed according to the Living Building Challenge™, the highest level of sustainability standards in the world. Discreet use of solar panels and a sophisticated onsite energy and water management system assist in using 50% less energy and water than similar facilities.
Interior furniture and fittings create a warm, welcoming ambiance that reflects the surrounding natural environment. Native landscaping and artisan features include stone mosaic walkways and hand-crafted signage. Structures are made from re-used vintage timber and include a massive Scheelite Campfire Shelter, perfect for relaxed socialising.
Camp Glenorchy is also an ideal overnight destination for family celebrations, gatherings of friends, business retreats and educational workshops. Camp Glenorchy's year-round cabins and bunk rooms can accommodate up to a total of 60 guests. Seven cabins and two bunkhuts, built to a European standard of comfort and energy efficiency, can be reconfigured to suit a range of group sizes.
Part of The Headwaters, encompassing Camp Glenorchy and Mrs Woolly's General Store among other operations, Camp Glenorchy is an innovative triple-bottom-line organisation committed to delivering environmental, financial and community sustainability.
---