Mrs. Woolly's General Store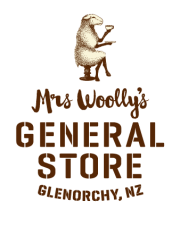 A winding, beautiful 45-minute lakeside drive on one of the most scenic roads in the world will bring you to Mrs. Woolly's General Store, a surprise collection showcasing good taste and healthful living with an array of distinctive fresh foods, home, handy and personal products and one-of-a-kind gifts. 
Located at the entry to the rural township of Glenorchy, the remarkable selection at Mrs. Woolly's General Store offers a wide range of whatever you might want or need and a handpicked cornucopia of the best of all things New Zealand. 
From healthy chef-made takeaway foods for picnics and hikes, to fresh organic groceries, to unique artisan-made gifts, outdoor gear and clothing, practical kitchenware and hardware, the warm, friendly staff is ready to help with a smile and pointers on the best things to see and do while visiting Glenorchy.  And you can feel good about your purchases too: as all profits from sales at the General Store go to benefit the local Community Trust, to improve the lives and livelihoods of those living in this rural town at the head of the lake and the heart of the mountains.
Come by and discover:
The world famous Full Monty sundae, a hot individually-made pour-over coffee, or a tasty affogato (a shot of espresso poured over our house-made gelato)
How you can make reservations at Camp Glenorchy, the first NetZero Energy certified campground being built next door, featuring cabins, a community kitchen and group classroom.
Chef-stocked grocery department that features fresh healthy takeaway wraps, salads and home-baked treats made in our kitchen
Camping, hiking, outdoor gear and supplies for everything from "roughing it" to "glamping" in style
Beautiful and unique handmade gifts from local New Zealand artists
A surprising range of kitchen tools and gadgets to make life easier
A practical selection of skin and body care products, including our extensive collection of NZ Manuka honey-based lotions, sunscreen, lip balm and soaps
Tools and hardware, ranging the gamut from that "one thing you need right now" to a well-curated selection of high-end, collector-quality pieces
Delightful assortment of children's toys, plush animals, games, gear and gifts you won't find in many other places
Seasonal clothing selections for looking your best and being comfortable in any kind of weather
Mindfully-curated range of books to learn, discover, cherish, remember and give
Tasteful Glenorchy-branded gifts, t-shirts, aprons, tea towels, water bottles, posters postcards, field notebooks, baby blankets and infant onesies
A wide selection of greeting cards, gift wrap and more.
---