The ŠKODA Czech Film Festival Queenstown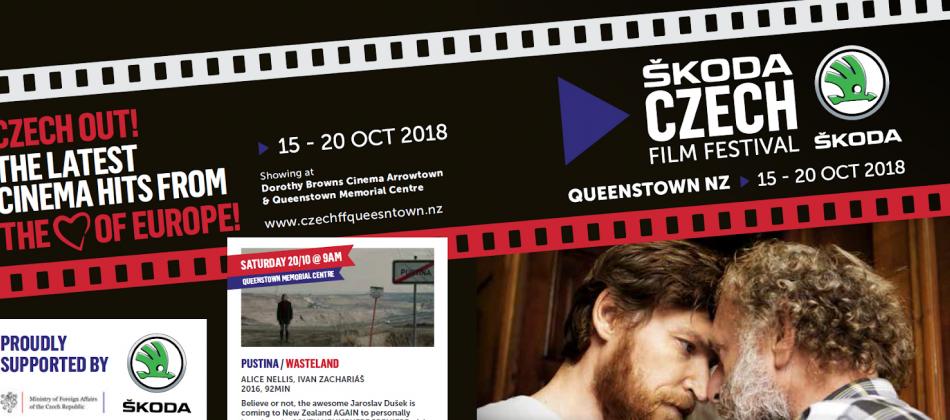 Oct 15, 2018 - Oct 20, 2018 - 6:30pm
For the known Glenorchy connections to the Czech Republic, we would love to invite you to the ŠKODA Czech Film Festival Queenstown 2018!
It is the 1st of this kind of event ever held in New Zealand, this year following the inaugural one in 2016, which was a great success. We are very excited to introduce some top class European movies and despite of the significantly growing Czech community in the region, we are definitely aiming also for Kiwi viewers. 
All movies will be showing with English subtitles of course and they were carefully selected to address topics or stories interesting and telling regardless of nationality.
As the Czech Republic celebrates 100th Anniversary in October this year, there are some titles reminding some key historic events which have influenced our country significantly - such as A Prominent Patient and 
British Independent Film Awards nominee Anthropoid.
One of the main attractions for our Czech expats will be, however, the presence of one of our most popular actors - Jarda Dušek - who is coming to personally introduce the grippy miniseries "Wasteland" which is often compared with the locally shot Jane Campion's Top of The Lake.
The dark horse of the festival is the beautiful nature documentary "Wilder than Wilderness" which might surprise by the unexpected variety of the middle-Europe fauna and flora, or a great real-life comedy The Tiger Theory. 
We are very lucky to have some very fine sponsors who have partnered with us this year and thanks to them we believe we are going to have another well-received event in the Lakes District.
All movies are screening in Dorothy Brown's Cinema in Arrowtown except of the Wasteland, the 8-episodes movie marathon, which will be held in the Queenstown Memorial Centre.
Opening 15. 10. night with Mt Rosa wine tasting, ending 20. 10.
More and TICKETS on www.czechffqueenstown.nz
Venue: DOROTHY BROWN'S CINEMA ARROWTOWN & QTN MEMORIAL CENTRE