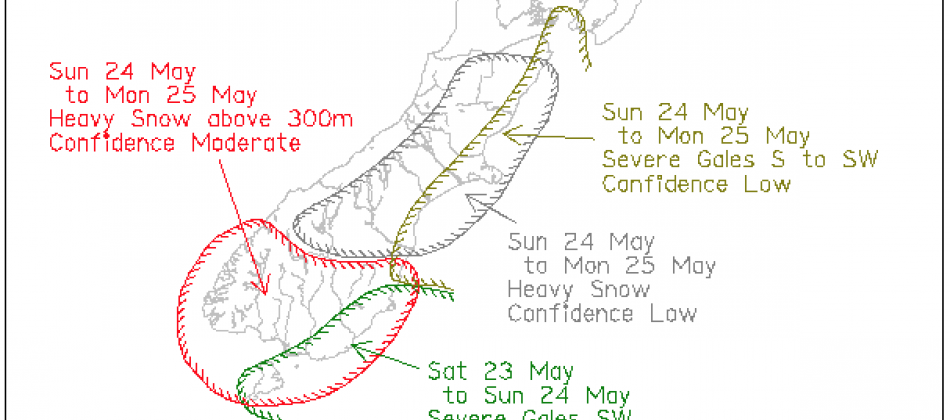 SNOW COMING OVER THE WEEKEND!
May 21, 2015
METSERVICE Severe Weather Outlook
Valid from Friday 22 May 2015 to Monday 25 May 2015
SNOW is expected about Fiordland and higher parts of Otago and Southland on Saturday, then is likely to lower further on Sunday.
There is a moderate confidence of WARNING AMOUNTS OF HEAVY SNOW LOWERING TO 300 METRES ON SUNDAY, WITH THE POSSIBILITY OF SIGNIFICANT SNOW TO LOWER LEVELS. THE COLD AIR IS EXPECTED TO PROGRESS NORTHWARDS DURING SUNDAY, AND SNOW IS LIKELY ABOUT MOST OTHER SOUTH ISLAND RANGES.
South to southwest gales may become severe about the east coast from Stewart Island to Cook Strait, starting in the far south on Saturday then further north on Sunday.
ALTHOUGH THERE IS STILL CONSIDERABLE UNCERTAINTY REGARDING THE AMOUNT OF SNOW AND HOW LOW IT WILL FALL, THERE IS THE POTENTIAL FOR THIS TO BE A SIGNIFICANT EVENT, ESPECIALLY IN THE SOUTH AND EAST OF THE SOUTH ISLAND.
On Monday, the cold southwest flow should ease and conditions should gradually improve.