FRESH HEALTHY TAKEAWAY FOOD AT MRS WOOLLY'S GENERAL STORE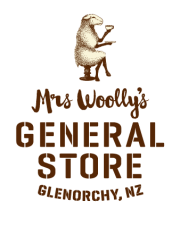 Our kitchen wizards get up mighty early every morning to prepare some of the freshest, healthiest, organic takeaway fare on the South Island. Whether for picnic, hike or pantry, you'll find everything from yummy soft shell tacos and colourful salads, to cookies and biscuits and our world-famous Full Monty soft-serve gelato sundae to fill your tummy and make you smile. 
Worth the drive in itself, the remarkable selection of healthy fresh foods and groceries at Mrs. Woolly's General Store offers the best of the season as well as both everyday pantry staples and inventive ingredients to help nurture both body and soul. 
To top it off, an array of collectibles and unique art treasures are all served up at Mrs. Woolly's General Store with a friendly smile, and conversation, pointers and booking assistance on all the best things to see and do in this beautiful place while visiting Glenorchy.  And you can feel good about your purchases too: all profits from sales at the General Store go to benefit the local community trust, to improve the lives and livelihoods of those living in this special rural town at the head of the lake and heart of the mountains. 
Our creamy world famous Full Monty housemade soft-serve gelato sundae  

The tastiest gluten-free cookies and biscuits, from special recipes perfected in our own kitchen Fresh

Fresh, filling and tasty, Mrs Woolly's now offers a range of chef-made soft shell tacos, including Chipotle Beef and Falafel, and nourishing hearty soups - how does Roast Cauliflower or punchy Thai Vegetable sound? Hearty, healthy and satisfying!


Gorgeous fresh layered takeaway salads, each a work of culinary art, served with your choice of house-made dressings 

Organic fresh New Zealand produce – some from gardens just down the road! 

An extensive and practical chef-stocked grocery and specialty foods selection 

The very best selection of gourmet chocolate and premium specialty dark chocolates 

Fresh coffee or an indulgent affogato (a shot of espresso poured over our house-made gelato) 

A surprising range of kitchen tools and gadgets to make cooking both fun and easy 

A General Store filled with more than great food, including high-quality unique gifts and collectibles, clothing, gear and a range of happy surprises from the practical to the sublime 
---