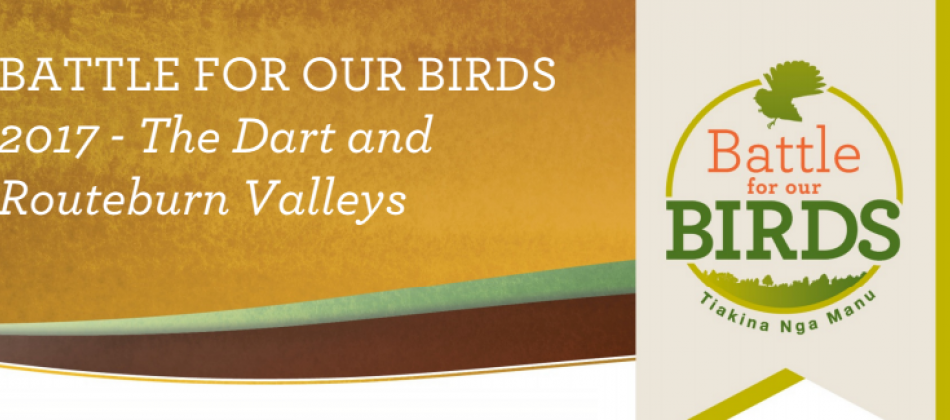 1080 OPERATION IN THE DART AND ROUTEBURN VALLEYS
Sep 19, 2017
This is to confirm that the aerial application of poison cereal baits containing Sodium Fluoroacetae (1080) in the Dart and Routeburn  Valleys will occur this Wednesday 27th September. 
Attached is an information sheet which provides the essential details you need to know regarding this operation.
Please be aware that:
From 2pm on Tuesday 26th September and all of Wednesday 27th September the road to Chinamans Bluff (Dart Track) will be closed from the forest edge at the top of Mill Flat;
All tracks in the Dart and Routeburn will be closed during the drop. Nearby tracks will also be shut including the Rock Burn and Beans Burn; these closures will be up to 24 hours.  Overnight trampers already within the area will be held at huts by DOC staff until operations are complete.  People planning to visit these areas are advised to check with a DOC visitor centre prior to their trip;
Immediately after the drop the tracks will be inspected by DOC staff and swept for pellets before being reopened. Please note some pellets may still be found on the tracks, particularly if it is windy;
Any pellets encountered should be treated as poisonous:
DO NOT touch bait
WATCH CHILDREN at all times
DO NOT EAT animals from these areas
Remember, poison baits and carcasses are DEADLY to DOGS
If we encounter difficult operating conditions the aerial work may continue into Thursday 28th September. If this occurs both the road closures and track closures will continue for this extra day. You will receive an additional e-mail notification if this transpires.
If you have any questions please contact the District Office on 03 442 7933.
Regards,
Susie Geh
Senior Ranger/Supervisor  Community
Kaitiaki Matua/Tauawhi, Ao Hāpori
Department of Conservation
DDI: (03) 442 8508   VPN: 5707   Mobile: 027 5366832
Whakatipu-wai-Māori / Queenstown Office
Cavells Building, 1 Arthurs Point Road | PO Box 811, Queenstown 9371
www.doc.govt.nz
Related documents: