What's on...
December 2018
MRS WOOLLY'S GENERAL STORE CHRISTMAS SALE & FESTIVITIES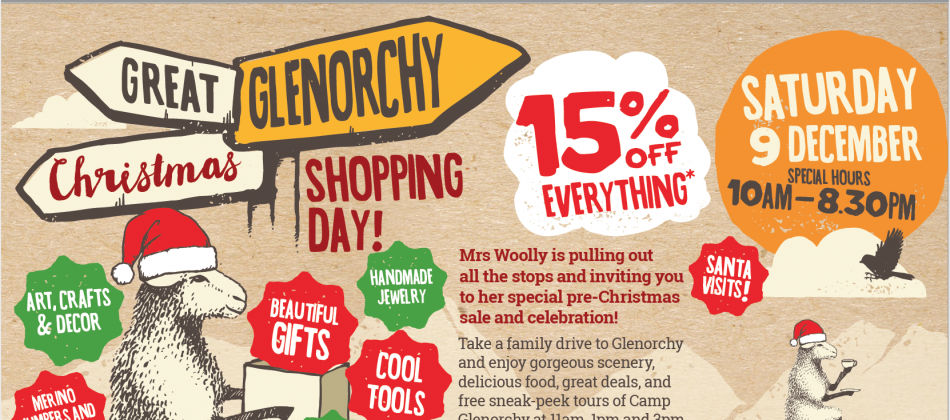 Dec 9, 2017 - 10:00am to 8:30pm
Great Glenorchy Christmas Shopping Day
Saturday, 9th December, 10am – 8.30pm
Mrs Woolly's General Store
15% off almost everything*
Special "Locals Only" finger food, music, refreshments, Santa visits and holiday celebrations from 6.30 to 8.30pm
AND with every $100 purchased, you'll be entered in a drawing for a free $500 voucher for your choice of Mrs Woolly's General Store or NZ's most sustainable accommodations, Camp Glenorchy (opening in March). Wrap up all your holiday shopping here and YOU could be the one who gets the best gift of all!
If you haven't seen the latest progress, come join us for the last pre-opening sneak-peek tours of Camp Glenorchy at 11am, 1pm and 3pm.
All holiday meal catering pre-orders placed on Saturday the 9th will include a FREE POT OF HOUSEMADE BUTTERSCOTCH SAUCE. Choose from a delicious range of holiday house specialties including:
Mrs Woolly's fresh-baked real gingerbread loaf: moist, slightly sticky, and super-ginger-y
Christmas Edition Mountain Crisps: made with cranberries and hazelnuts
Christmas Hams: prepared by our chefs, ready to heat and serve, with sticky orange maple glaze
Glenorchy Manuka-Smoked Salmon: whole sides of the freshest catch, made in-house
Salsa Verde: the perfect accompaniment to our salmon, made from the freshest ingredients
Christmas Puddings: a moist and delicious holiday tradition, with brandy-soaked fruits
And more! Holiday meal order forms available in-store now or via email by calling us at 03 409 0051.
* Does not include holiday decorations & food/grocery items
Related documents:
---
Venue: MRS WOOLLY'S GENERAL STORE
Phone: 4090051
Address:
64 Oban Street