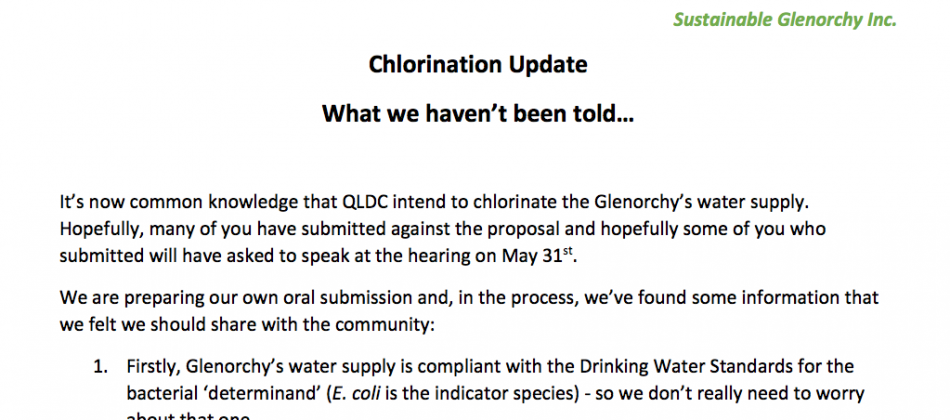 CHLORINATION UPDATE - What we haven't been told...
May 7, 2017
It's now common knowledge that QLDC intend to chlorinate the Glenorchy's water supply.  Hopefully, many of you have submitted against the proposal and hopefully some of you who submitted will have asked to speak at the hearing on May 31st. 
We are preparing our own oral submission and, in the process, we've found some information that we felt we should share with the community:
1.
Firstly, Glenorchy's water supply is compliant with the Drinking Water Standards for the bacterial 'determinand' (E. coli is the indicator species) - so we don't really need to worry about that one.
2.
But Glenorchy's water supply is not compliant for protozoa (Cryptosporidia is the indicator species) http://www.drinkingwater.esr.cri.nz/supplies/supplycomplyforcy.asp?ccode=GLE003

3.
To gain compliance we need to EITHER:
a) Apply barriers against protozoans to the value of 3 'log credits' (which is the level of protection required based on the PERCEIVED RISK which is in turn based on the depth and 'unconfined' nature of our aquifer); OR

b) We need to undertake a testing regime to establish how many log credits are required based on the ACTUAL RISK and treat to that level.  The snapshot below describes the required testing over 12 months (to be repeated 5-yearly):
For more information on compliance with the protozoan determinand see Section 5 of the Drinking Water Standards 2005 (revised 2008) in the link at the bottom of the page.
c) After establishing how many log credits we need (by either method above), we can choose which barriers to apply to achieve compliance with the Drinking Water Standards. 
The OPTIONS include filtration, UV treatment, disinfection etc
4.
NOTE: The World Health Organisation's drinking water guidelines state that protozoa are very resistant to disinfection with chlorine and are more effectively treated by filtration or UV or a combination of those.  Chlorine is a poor option for dealing with protozoans because you need to use a lot of it and safety cannot be guaranteed.  It is also a poor option because our supply is unfiltered and so we risk the formation of Disinfection By-Products (DBPs) due to the chlorine interacting with organic compounds in the water N.B. QLDC is not required to test for these compounds which are toxic at certain levels.
5.
And this is interesting: QLDC's Water Safety Plan for Glenorchy's supply (a statutory requirement), currently states that UV treatment is 'planned' for GY's supply. It also states that the community would not want the supply chlorinated
Our position is that QLDC should be:
making independent decisions for each small community on this issue;
basing their decisions on REAL RISK rather than perceived risk (i.e. they should undertake a monitoring regime to determine how much treatment is needed to ensure a safe supply); and
should be considering the costs and benefits of ALL treatment options (in consultation with the community).
Here are the links to the relevant documents:
Water Information New Zealand (for a register of most NZ supplies and their compliance status; and information on supply gradings): 
And we've asked Vladka to upload a copy of QLDC's Water Safety Plan for Glenorchy.
HAPPY READING!
Related documents: